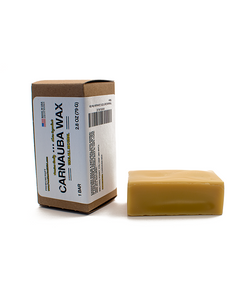 Features
All Natural, highest quality and purity T1 grade carnauba wax

Measures approx 3.1 inches x 1.8 inches x 1.2 inches

Great for crafts, polishing, etc

Carnauba wax can produce a high gloss finish

Made in USA
Description
PremiumCraft Carnauba Wax is a rock hard, natural, non-animal based wax known as the queen of waxes. It can produce a high gloss, protective finish. Our high quality carnauba wax is 100% pure and all natural. The melting point of carnauba wax is between 176F and 185F (80-85C). Comes in a 2.8 oz bar, measuring approximately 6.69 cubic inches (3.1in x 1.8in x 1.2in).
This bar of wax is rock hard, brittle, highest purity, solid, carnauba wax and is best used for rotary polishing/buffing wheels. It will not smear or rub onto your project like polishing paste and is not recommended for use with hand polishing applications.
Instructions
This product can be used for crafts, polishing and various other uses.