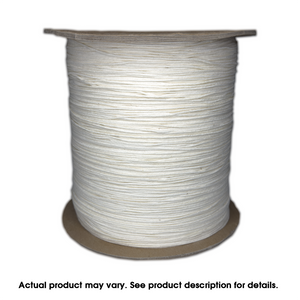 Features
Size #6/0

100% Natural Cotton

Each spool is sold by weight

Approximately 575 yards per pound of wick

Unprimed (uncoated), Lead-free

Thickness (approximate): 1.42mm

Made in USA
Description
Square braid wicks were designed for the viscosity of beeswax candles but they can still be used with soy, paraffin and vegetable waxes too. Our wicks are raw, untabbed, and lead-free. Use for up to 1/2 inch diameter beeswax candles.
This is a single spool of raw PremiumCraft #6/0 Square Braid wick.The tare weight of the spool is the raw weight selected in product listing (does not include the paper core weight).
Instructions
Before use, soak the wick in molten wax of your choice. This process prepares your wick for use in candle making. Soak in molten wax until bubbles stop rising to the surface. Results may vary. Experimenting is strongly recommended.
The first burn of a candle is important in setting the pace for how the candle will burn every other time that it's lit. When you light your candle for the very first time, make sure that it burns long enough to melt the wax all the way to the outer edge. This may take several hours. The general rule of thumb is to let the candle burn for approximately an hour per every inch of diameter. It's also important to not overtrim the wick length every time the candle is lit. A wick that's trimmed too short will not allow the candle to burn hot enough and may cause tunneling. A wick that is not trimmed far enough could cause the candle to burn too hot and may cause smoking.